"He has told you, O mortal, what is good; and what does the Lord require of you but to do justice, and to love kindness, and to walk humbly with your God?" (Micah 6:8)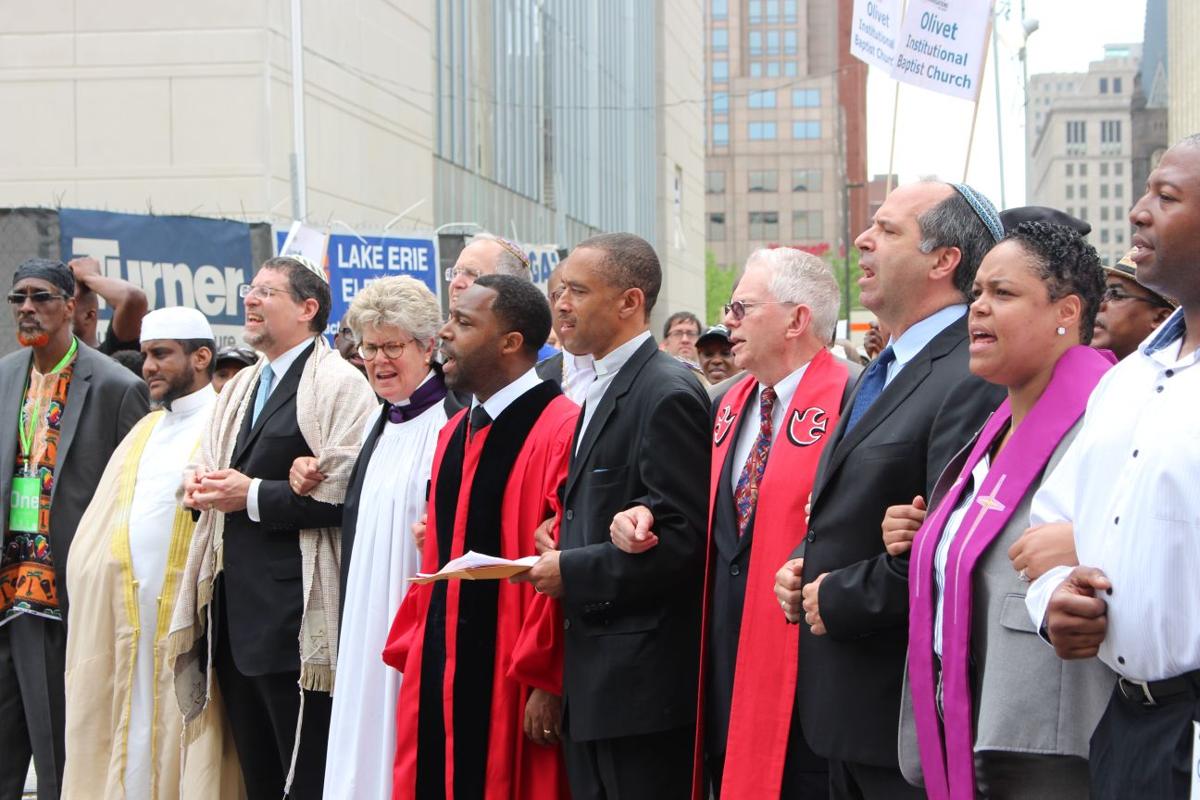 Pastor Courtney Clayton Jenkins of SEUCC and other clergy leading a march against racial disparities in the criminal justice system, May 2015. Photo by Lillian Messner
The pursuit of justice is at the very heart of our Christian faith, and the eloquent words of the prophet Micah, uttered so many centuries ago, provide the guidance we of South Euclid UCC need as we seek to be a faithful justice-seeking people.
With love as our motive and justice our instrument, we want to support those among us, near and far, who need our tender care and we want to help build a more just city, nation and world.
The Greater Cleveland area is facing a number of longstanding issues of social justice, rooted in a deep history of segregation.  While the Cleveland area is sometimes seen as a progressive enclave in a conservative state, policymakers have over a number of decades, failed to effectively address the crushing inequities related to, health, joblessness, education, access and mobility, housing, infant mortality, wealth building, safety, criminal justice, and virtually every other facet of public life.
Like much of the population in Greater Cleveland, we can sometimes be disconnected from the disparities affect our communities and from the efforts and avenues to change them. There is a sense of "injustice fatigue" created by the long history of injustices that have become a part of the way things are and have always been.
However, there is a new wave of activism bubbling up around Cleveland, and a new energy around the fight for justice.  Marches and rallies responding to the death of Tamir Rice and the Brelo "137 shots" case have lent energy to deeper campaigns to end overcrowding and human rights abuses in the County Jail, to fight ongoing neighborhood disparities in public funding, and to end racial health disparities.  In July, a massive effort of activist and community groups including SEUCC resulted in lead-safe housing legislation in Cleveland, a major step in the fight against the city's lead poisoning crisis and proof that social justice movements can make change.
We are aware that our work together will not be without challenge. We are aware of the perilous and deeply troubling times in which we live. We are aware that the injustices we seek to address are deep-rooted and resistant to positive change. We are aware that we have much to learn if we are to be effective instruments for positive change. We are aware that we need to remain committed for the long haul. But despite these challenges, we believe that our God is with us in this sacred venture and will provide for us the faith, the vision, the courage, the strength, and the staying power we will need.  We trust that God through Christ Jesus will be our refuge and strength, and if God be for us, who then dare stand against us.
---
About the Authors
Rev. Dr. Paul Sherry, former President of the United Church of Christ

Liz Gauntner, lay leader for SEUCC's Social Justice Team